I See Posts Before My Eyes
Sep 01
New Who Review - "Into the Dalek" -
BIG BAD WOLF REPORT – Missy is back, here meeting brave soldier Gretchen for a splosh of tea.  So the initial thought that she's collecting The Doctor's enemies is incorrect.  It now appears she's collecting people who have died because of The Doctor.  While the jury is still out on whether the clockwork droid died at his own hand in last week's adventure, Gretchen clearly sacrificed herself to make sure The Doctor's plan worked.
Near the end of Tennant's run, The Doctor is thinking about his life while chatting in a cafe with Wilfrid Mott (Bernard Cribbins).  "I've killed," he said "But then I got clever – I convinced people to kill themselves."  What we are seeing here are people who are the victims of The Doctor's cleverness.  Depending on which side Missy is on, both of these people so far could be talked into believing they were responsible for saving the lives of countless people by a hero, or that they were callously killed by a madman.
hmm, yoga is kind of girly #nohomo
let's rename it so it sounds manlier and make it just for the bros
for the bros only

WHY DO MEN NEED TO REBRAND EVERYTHING TOUCHED BY WOMEN?

SIT DOWN AND EAT YOUR YOGURT AND SALAD AND DO YOUR YOGA

FOLLOW UP YOUR INTENSE BROGA SESSION WITH SOME BROGURT AND A BRAH-LAD

this takes gender insecurities to a whole new level my god
Well, there's DDP Yoga as well, which was also created based on the wrestler's hesitation to try yoga, but his realization that it was helpful.
(via rebakitt3n)
[video]
the graduate (1967, dir. mike nichols)
Dustin Hoffman almost played Franz Leibkind in The Producers.
He showed up outside Mel's home, begging to be released so he could audition for The Graduate.. The film was to star Mel's wife, Anne Bancroft right, the lucky bastard) and let him go.  
I wonder how different much of Hollywood history would be if he had not.
(via rebakitt3n)
[video]
Of all the shows that the "Classic TV" stations could be carrying, there's one very specific set of shows that haven't been on as they should be for almost ten years.

And I'm not talking about the Hooterville trilogy.

I'm talking about the Warner Brothers detective shows.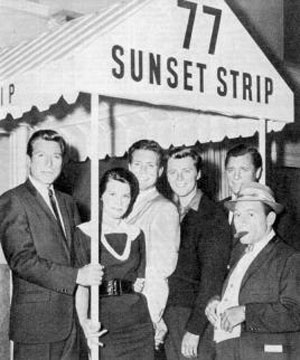 77 Sunset Strip, Surfside Six, Bourbon Street Beat and Hawaiian Eye. They'd regularly show up on each other's shows, and in some cases, characters would migrate full time to the other ones.

I mean, I think Sugarfoot showed up on Maverick once, but the level of connection on the detective shows was insane.

During the writers' strike, they would take the scripts from one show, change the names, and hand it to one of the others. They used a lot of the western scripts on the detective shows somehow. Those scripts would be credited to "W. Hermanos" - 'hermanos" is Spanish for "brothers".

They haven't been all on at once on a single channel since Good Life TV ran them almost ten years ago. They've not been seen since. For a while I wondered if Warner Brothers might be setting up to start their own classic TV channel, but I'm not sure they have qute enough shows for fill it.

So Antenna TV, Me-TV, Cozi TV, Retro Television, all y'all - Who's gonna take the dive? Run them on different nights, or run them all on one night, and call it "Watching the Detectives" This could do VERY well for you.  
[video]
Aug 31
[video]
[video]
In case there is any doubt of Xavier Woods' geek cred.  Here's a pic of him from Dragon con this weekend.
That's him in the middle.
Dressed as Krang from TMNT.
So there's that.
This 'Mary Poppins' Theory Will Blow Your Mind! -
Like all people, I assumed that Bert and Mary were More Than Friends at some point.
This theory takes that idea, turns it on its head, and then shoots you in the face.
Aug 30
Henceforth, that Dalek's name is Gretchen Allison Carlysle
Aug 28
"In a gender-equal world, Beyoncé could strut her stuff freely because she wouldn't have to prove her intelligence, even if she was shimmying in a tight-fitting dress. Men have the liberty of shaking their hips without their intelligence being questioned, but women don't."

— Elizabeth Plank, Beyonce doesn't have to choose between her sexuality and feminism (via micdotcom)
Yes, but would men then be free of having to put rings on everything they like?
Well, SOMEbody made it on @Midnight last night…
The Zarbi and the other denizens of Vortis were among the first "One hit monsters" in the series, but like so many of them, they enjoyed a long like in other media.  There have been additional adventures featuring the creatures in the comics, audio plays and prose novels.  Every alien is SOMEbody's favorite.
The Web Planet continues tonight on Retro TV.