I See Posts Before My Eyes
Aug 19
""Take sides. Neutrality helps the oppressor, never the victim. Silence encourages the tormentor, never the tormented.""

— — Elie Wiesel (via dangerouswitnesses)
So perhaps "Net Neutrality" is mis-named?
(Source: officialteamgreen)
Aug 18
This is Claudia Grant.
Claudia Grant played Carole Ann Ford, who played The Doctor's granddaughter against William Hartnell.
Claudia Grant's agent is Jessica Carney.
Jessica Carney is William Hartnell's granddaughter.
That is the sound of reality tying itself into a neat little bow.
[video]
Would anyone be interested in me making a recommends post for books? :) I fancy doing one. 
#would have some Pterry but mainly other stuff that readers of Discworld might enjoy
"SOME" Pterry?
Hail Hydra. Get in on the action and join me in the #ShieldvsHydra fight for a chance to win weekly prizes, plus the Grand Prize - a trip to the #Avengers #AgeOfUltron premiere. http://goo.gl/iLSulS
S.H.I.E.L.D. Agent or Hydra Operative?

Find out where you stand in the #SHIELDvsHydra Sweepstakes and enter for a chance to WIN weekly prizes and a Grand Prize trip for two to Marvel's "Avengers: Age of Ultron" premiere: http://bit.ly/1n25Xpc

No purchase necessary. Rules: bit.ly/1r7eM8A
"Cunningness"?
You can't say she didn't rock it tho.
HHH totally had her take that home with her.
Same
I won't lie, I've spent hours going over old posts, amazed at the jokes I've made and forgotten.
(Source: arandanauts)
I had to make The Wife read this four times before she caught the typo in this trailer for Roman Holiday.
The eye skips and/or ignores duplicate words if they're split across two rows of text.  Apparently spell check will miss it too.
Another famous filmic example is Attack of the (the) Eye Creatures, which got no end of mockery on MST3K
And the old "Paris in the Spring" gag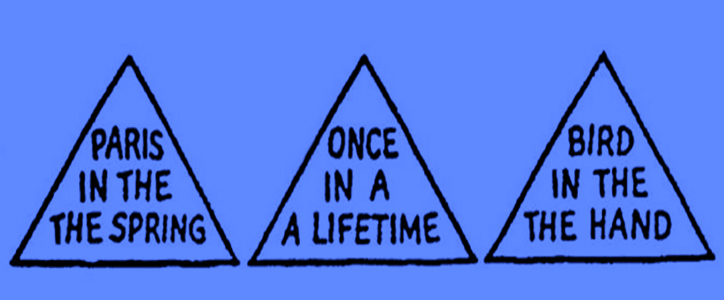 Anyone know if that kind of illusion has a name?
Let's hear about local TV horror hosts
Svengoolie is national thanks to Me-TV and MST3K is back on Retro Television which also used to run Wolfman Mac's Chiller Drive-In and another show out of Pittsburgh whose name I've already forgotten.
Our local public service channel on RCN runs Midnite Mausoleum.
Horror hosts are a major part of TV history. Like kids' cartoon show hosts, they were often members of the news team (as SCTV's Count Floyd was "really" news anchor Floyd Robertson (Joe Flaherty).
Some like Zacherley and Ghoulardi (Ernie Anderson, father of director Paul Thomas Anderson) achieved national fame, but most were only local heroes.
Who do you have running in your area? Which ones do you remember and miss?
Claras! #DWWorldTourMx #ClaraOswaldCosplay
Wouldn't it be "Clarae"? she is female after all.
(via doctorwho)
Aug 17
Uber vs Lyft
Sittin' here writing a script and realizing that the reason Uber and Lyft are fighting so hard right now (and having so much investment capital dumped into them by rich people) is that in 10 years, all cars will be driven by robots and thus taxi services will be much cheaper but still very high margin. Uber wants very badly to kill Lyft now, while it's young, so that there's less (or no) competition in that uber-profitable future (pun intended.)
I suppose it's remotely possible I'm the first to get this posted.
Engineers: Would this idea work? Why or why not?
They already make little window-mounted fans that do this to a small degree.  The reviews for the one's I've seen are tepid, but I've seen more expensive designs.  So they're trying at least.
Aug 16
[video]
Aug 15
[video]